If you are looking for a getaway I have the perfect destination for you! Rome, Italy. Here are the best things to do in Rome.
To get you started I have made you an itinerary of some of the top landmarks in Rome as well as a quick city guide which includes where to stay, how to get around, and key Italian phrases and much more. So get ready to book your next trip so you can visit the highlights of Rome and make sure to take my city guide along with you.
Places to Visit in Rome, Italy
Piazza Navona
Was once used as a racetrack but now serves a completely different purpose. During the day, you will find vendors sitting around, and at night, there are street musicians filling up the area with beautiful sounds. Make sure to spend an evening here, grab some food at one of the many outside cafes, and enjoy yourself.
Four Rivers Fountain
It's located in Piazza Navona. The fountain boasts four men, or "river gods"; each one representing a major river from the only four known continents in the 1600s. One god represents the Nile in Africa, the second represents the Ganges in Asia, the third stands for the Danube in Europe, and the fourth, the Rio de la Plata in the Americas.
Pantheon
Is an iconic architectural Roman gem. Feel free to enter, take a look around, and marvel at all of its beauty. When you finish, make sure to stop by Gelateria Caffè Pasticceria Giolitti; it's some of the best gelato you will find in Rome.
Piazza Colonna
Take a minute to take in the beautiful sculpting that is the two story piazza. It was constructed to depict the victories of Emperor Marcus Aurelies over barbarians. Make sure to get up close to you can marvel at the intricate details.
Trevi Fountain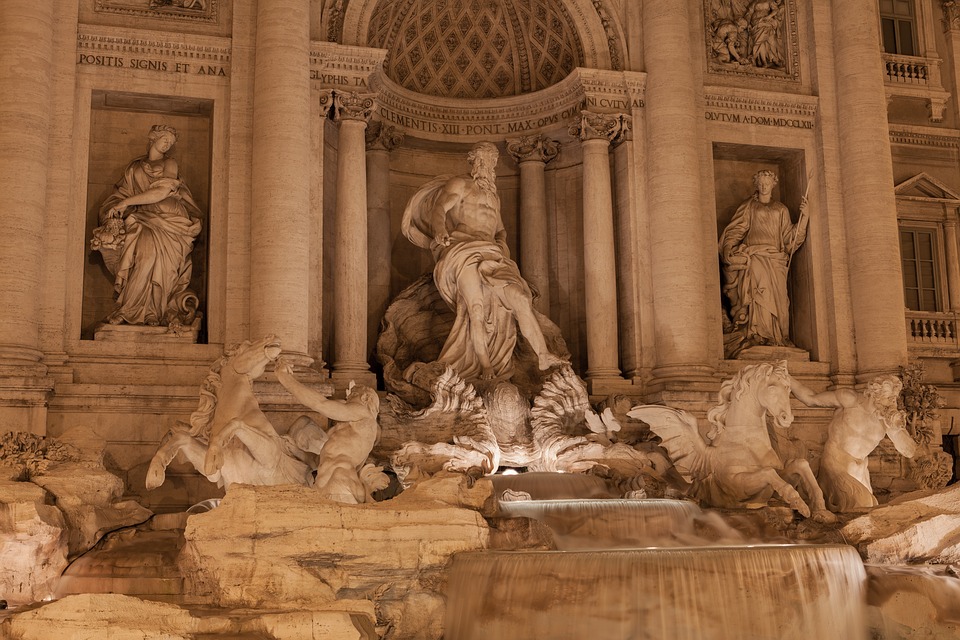 The beautiful Trevi Fountain is a must see when you visit Rome, but beware that it is always crowded, and don't forget to bring some change. Legends say that is you throw a coin into the fountain that you are guaranteed to find yourself in Rome again one day. Just remember to throw them with your right hand and over your left shoulder!
The Spanish Steps
An iconic romantic area of Rome. By day, the steps are filled with people stopping to take a break from shopping at high end boutiques and at night it's filled with people who simply want to take in the beauty of the city. While you're there, be sure to stop and take a look at the beautiful sinking boat fountain.
Roman Forum
This is where beautiful temples and exquisite arches used to cover the street. You can visit landmarks such as the Arch of Titus, the temple of Julius Cesar, and the Basilica Aemilia (which was once a Roman hall of justice).
Palatine Hill
Walk through what was once where emperors lived and now is a crumbling rubble. As you walk through, you can see outlines of what use to be rooms, fountains, and bath houses.
Circus Maximus
This was ancient Rome's chariot racing stadium which once could held up to a quarter of a million people.
Arch of Constantine
Was built in honor of Emperor Constantine and his successful legalization of Christianity as a religion. The arch also represent various other emperors before Constantine's rule.
Colosseum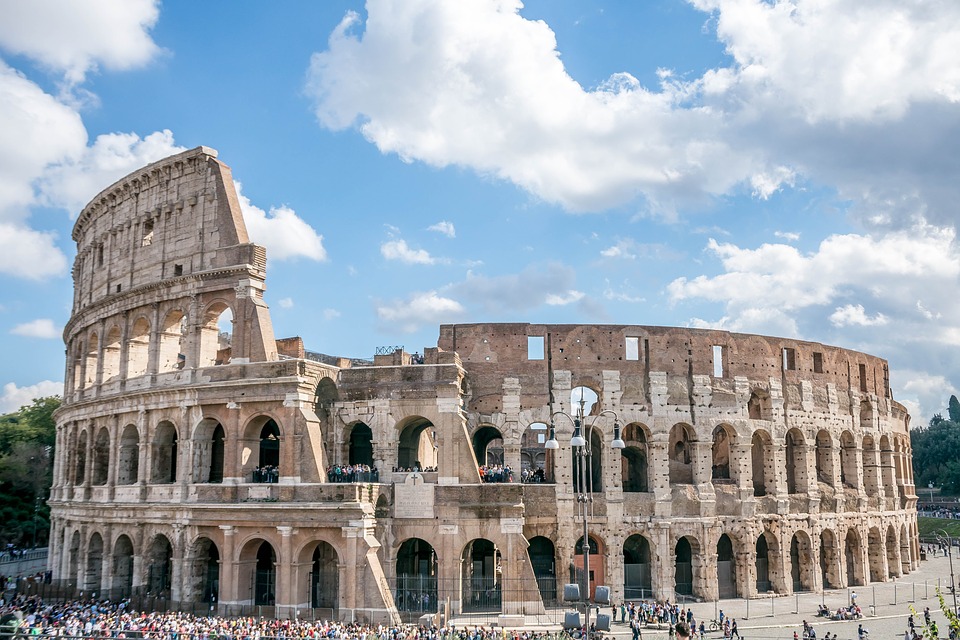 It was an arena where games were once held. As time went on, and Christianity took over, the once "entertaining" games were deemed cruel. So they closed down the colosseum and over centuries it has been used to help build other iconic landmarks around Rome (squatters once filled the place, and it was even used as a church). P.S. There are also underground tunnels that you may visit but only on a private tour.
What To Know Before You Go Visit Rome
Currency: Euros. Before leaving for your trip, monitor the conversion rates and try to order money beforehand from your bank (no extra charge). Also, if you plan to use your credit or debit card, don't forget to inform your bank and credit card companies so they don't freeze your funds.
Getting Around: I would have to say that the easiest way to get around Rome would be by purchasing a metro pass. You can get a one day pass for few euros, however, I suggest you pick a pass for a week.
Tipping: If you take a taxi ride, just round up your fair to the next euro. Hotel porters should get 1 euro per bag that they carry for you. Just like with your taxi fare, round your bar tab up to the next euro. As far as restaurants are concerned, no tip is necessary, but if you enjoyed the service leave 5%. Note: taxis will charge you extra per bag of luggage that you have with you.
Busy Season: Mid-June through August. Just know that the summer weather may be nice but it will also be hot and hard on your body when you are walking around all day on your tours. Also, beware that lines for attractions will be a lot longer and everything will be more expensive.
Off Season: April through June plus September and October. Note that there will be shorter lines to get into tourist attractions, but a lot of places will have shorter hours. As far as weather goes, you'll have avoided the summer heat, but you may run into other unwanted weather conditions. On top of all of that, shops and restaurants close down during low season so they may take a holiday of their own.
What to Pack: Do not, and I mean do not, stick out like a sore thumb with your fanny pack or money belt people! You're more likely to get pic-pocketed when you stand out as a tourist. Wear your everyday clothes while out adventuring, just be sure to bring a worn in pair of walking shoes. Don't forget to pack a few nicer outfits for the evening and a nice pair of shoes; expensive restaurants will have a dress code and will not let you in with tennis shoes or sandals. Last, but not least, you need to remember that there are strict dress codes for churches and other religious sites. Men must wear shirts with sleeves, while women should not wear short shorts or skirts and also must have their shoulders covered. If you are traveling in a warmer season, I suggest you pack a cardigan to slip on before entering such establishments.
Learn the Language: It's crucial for you to practice Italian before heading abroad. Rome is more of a tourist attraction than other areas so you will likely be abel to find people who speak English, however, you will find they will be more helpful and appreciative if you put in the effort to speak to them in their native language. Practice the key words and phrases below. If you would like to learn more, I suggest picking up Rick Steve's Italian Phrase Book & Dictionary. You can spend some time going through it before you make your way to Italy.
Do you speak english? | Parla inglese? | (par-lah-een-gleh-zay)
Please | Per Favore | ( perh fah-voh-ray)
Thank You | Grazie | (graht-see-ay)
Excuse me ( to get past) | Permesso | (perh-meh-soh)
Excuse me (to get attention) | Mi scusi | (mee-skoo-zee)
Goodbye | Arrivederci | (ah-ree-veh-dehr-chee)
Good day (Hello) | Buon giorno | ( bwohn jor-noh)
A ticket | un biglietto | ( oon beel-yeh-toh)
How much is it? | Quanto costa? (kwahn-toh-koh-stah)
Yes | Si. | (see) // No | No. (noh)
I'd Like | Vorrei | ( voh-reh-ee)
More Tips for Your Trip to Rome, Italy
Getting There: I suggest signing up for a price alerts with Orbitz or Travelocity. You can customize your search to where you want to go, when you are looking at going, and even how much you would like to spend. When there are price changes you will get a personalized email sent to your inbox.