On any Alaska Vacation, It is quite common to have one or two free days in Anchorage, between your travels to other destinations. The city of Anchorage is often the first city that visitors to Alaska see, as it is home to the Anchorage International Airport.
Anchorage is a beautiful city; in the summer, the city puts up colorful flower baskets all over downtown, and it really brings the city to life. Many visitors are content to just stay in their hotel, and not go out and explore Anchorage; it's quite a shame, because there is so much to do!
A great, inexpensive thing to do in Anchorage is to take a leisurely walk around downtown. There are lots of unique little shops, and you can find some great gifts and souvenirs! Downtown is a hot-spot for great restaurants; just walking down 5th Ave, you can find some great authentic Alaskan eateries.
If you are just walking around downtown, don't forget to stop by the Anchorage Museum, and you can even take in a show at the Alaska Center for Performing Arts (If one is playing). On weekends in the summer, make sure to stop by the Anchorage Market & Festival, for some amazing handcrafted gifts, great food, and entertainment. Your hotel can tell you about current happenings in Anchorage – Anchorage Hotels.
If you really want to see the city, consider an organized Anchorage City Tour. The Explore Anchorage City Tour is a comprehensive 5-hour tour where you'll enjoy an in-depth immersion in Alaskan history, art, culture and cuisine. This tour leaves in the morning and the afternoon, and includes lunch or dinner, respectively. Another great activity is the Grand Highlights and Glacier Cruise Tour.
You'll travel by Motorcoach along the Seward Highway, arriving at Portage Lake, for a Glacier Cruise aboard the Mv Ptarmigan. On the way back to Anchorage, you will stop at the Alyeska Ski Resort, where you can have lunch, and optionally take a ride on the Aerial Tram. You will end your trip with a tour of the city of Anchorage, and a visit to the Alaska Native Heritage Center.
These trips are really just the tip of the iceberg in Anchorage; there are so many more activities you can enjoy in Anchorage like:
Historic Downtown Anchorage Walking Tour
Downtown Anchorage is nearly flat, making for a delightful stroll. Throughout the summer, hanging floral baskets line the streets.
Start at the Log Cabin Visitor Information Center, where friendly volunteers answer questions, and provide maps for your walking tour. Racks of brochures line the walls to inform you about all facets of Alaskan Adventure.
The marble statue in front of Old City Hall next door honors William Seward. Along 4th Avenue are some of Anchorage's original buildings including the 4th Avenue Theater built in 1947. Some of the buildings are dated from 1920, when Anchorage was incorporated.
Cater corner from the Old City Hall is the Alaska Public Lands information Center, one of four in the state that provideShip Creek Fishinginformation on all of Alaska's public lands. Take F Street north downhill to 2nd Avenue, the site of original town-site homes built by the Alaska Engineering Commission, which also built the Alaska Railroad in the early 1900s. Walk east along 2nd Avenue past the Eisenhower Memorial to a set of stairs leading down to the Alaska Railroad depot. Salmon run up Ship Creek, north of the depot, all summer.
The Tony Knowles Coastal Trail, is arecreational trail that begins west of 2ndAnchorage Highlights Avenue and curls along Cook Inlet. Follow 2nd Avenue to K Street, go south a block to 3rd Avenue, and follow 3rd Avenue westward to Resolution Park, with its statue of Captain Cook. From here you can admire the grand vistas over Cook Inlet to Mt. McKinley and other peaks in the Alaska Range. The Oscar Anderson House Museum, off the coastal trail at the north end of Elderberry Park, was Anchorage's first permanent frame house, built in 1915 by city butcher Oscar Anderson.
If young travelers are getting restless, head back up the 5th Avenue hill and take a right on L street and head up 6th Avenue to the Imaginarium, an experiential science museum with a great gift shop. Walk down 5th Avenue, past the Egan Convention Center, whose lobby has several modern Native Alaskan sculptures. Across the street is a park (Town Square) that's packed with flowers in the summer, and just southwest of it is the Alaska Center for the Performing Arts.
Continue down 6th Ave past the Kimball building one of Anchorage's first commercial buildings built in 1915 and the Alaska State Troopers Museum. A Street and 7th Avenue is the location for the entrance to the Anchorage Museum of History and Art, which occupies the whole block between 6th and 7th avenues. The red metal sculpture out front is a favorite hide-and-seek site for children. The Anchorage Memorial Park Cemetery is located at 535 East 9th Ave and celebrates many people's lives that built the Last Frontier.
Anchorage Alaska Bear Viewing Tour – Katmai National Park
Take off from Anchorage by seaplane for an all day bear viewing expedition past glaciers and volcanoes to the land of the giants, the brown bear country of southwest Alaska. Explore this unique area by air with your pilot who will fly you to places like Lake Illiamna, Katmai National Park, and Lake Clark, or wherever we may find the highest concentration of bears. During your 200-mile safari, numerous bears can typically be spotted from the air as they fish streams teeming with salmon or roam the expansive coast.
Enjoy a hearty picnic shore lunch complete with refreshments. At the end of the afternoon, it's back to Anchorage and an end to a most memorable day!
Katmai bear viewing: Each bear viewing expedition is unique! Depending upon season, weather and your interest, the seaplane safari itinerary will be customized to offer you the best and most varied views of bears in their natural habitat. Often, several locations are available to view bears from the ground, as close as safety permits.
Anchorage Alaska Bear Viewing Tour – Redoubt Bay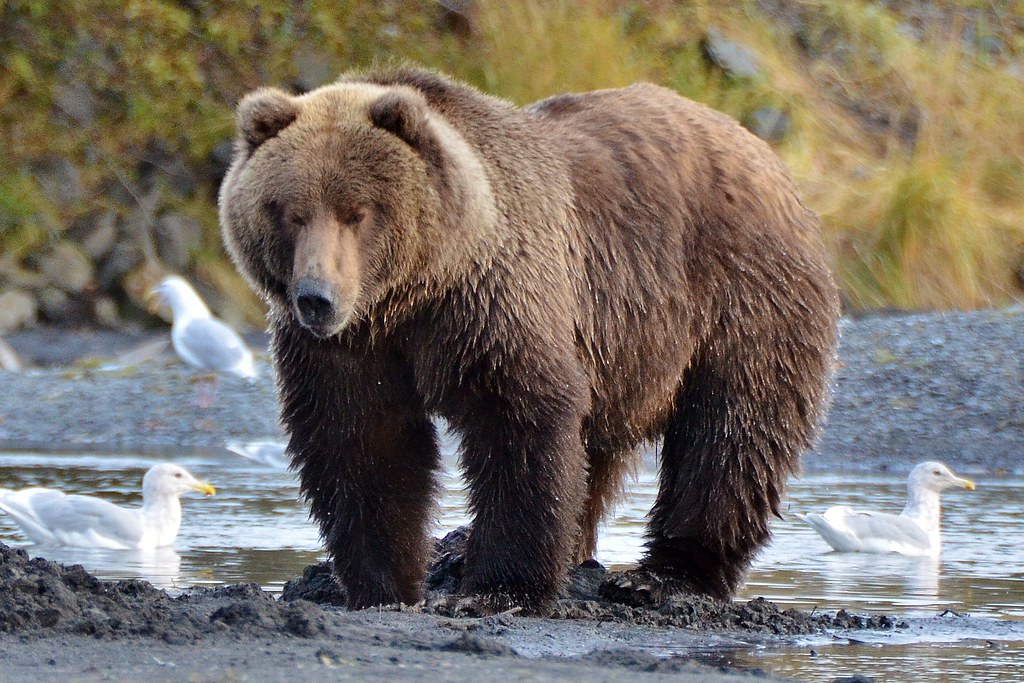 Redoubt Bay LodgeFly via floatplane from Anchorage to Redoubt Bay and land at the doorstep of a remote wilderness lodge in prime Alaska bear viewing country. The flight offers spectacular scenic views of the Cook Inlet and the western edge of the Kenai Peninsula.
Redoubt Bay Lodge is located 50 minutes southwest of Anchorage at the entrance to Lake Clark Pass. It offers the only accommodations within a 171,000 acre critical habitat area, and is the only 5-acre privately owned property in the region.
From the lodge, an experienced guide will take you by boat to view Alaska Grizzly bears in their natural habitat. Includes lunch at the lodge.
Alaska Grizzly Bears
Grizzly bears occur throughout Alaska except on the islands south of Frederick Sound in southeastern Alaska, the islands west of Unimak in the Aleutian Chain, and the islands of the Bering Sea.
Grizzlies are very much a part of the Alaska bear viewing scene and are a favorite topic with most hunters, hikers, photographers, and fishers.
Alaska Grizzly bears have been known to live 34 years in the wild, though this is rare. Usually, old males may reach 22 years. Old females may live to 26.
Anchorage Museum of History and Art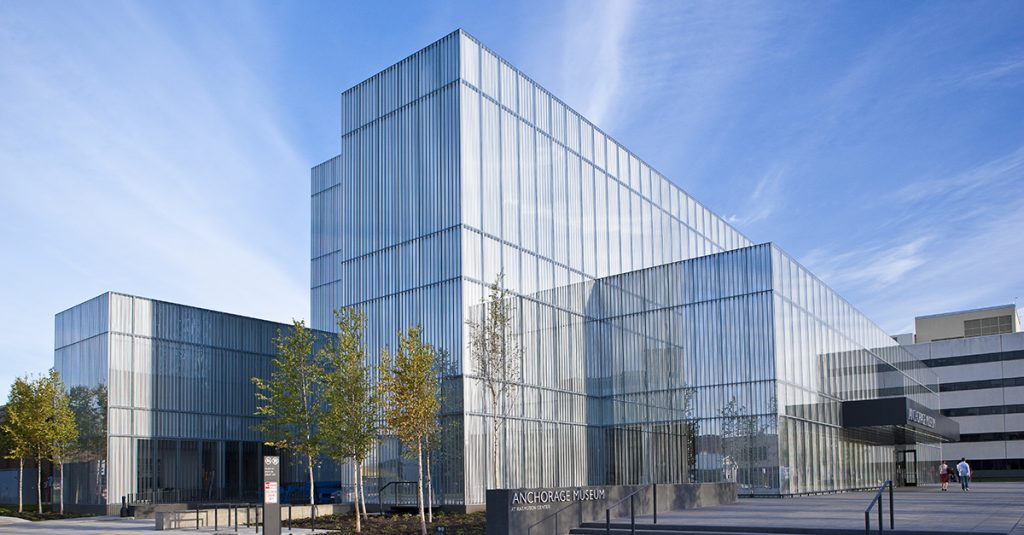 Experience the Anchorage Museum of History and Art and its extraordinary permanent collection depicting 10,000 years of Alaska history – Native subsistence lifestyles, European exploration, Russian America, and contemporary times. View art of the North.
A world-class museum, the Anchorage Museum of History and Art is located in the heart of Anchorage and features a restaurant and gift shop on site.
Anchorage Alaska Flightseeing Tours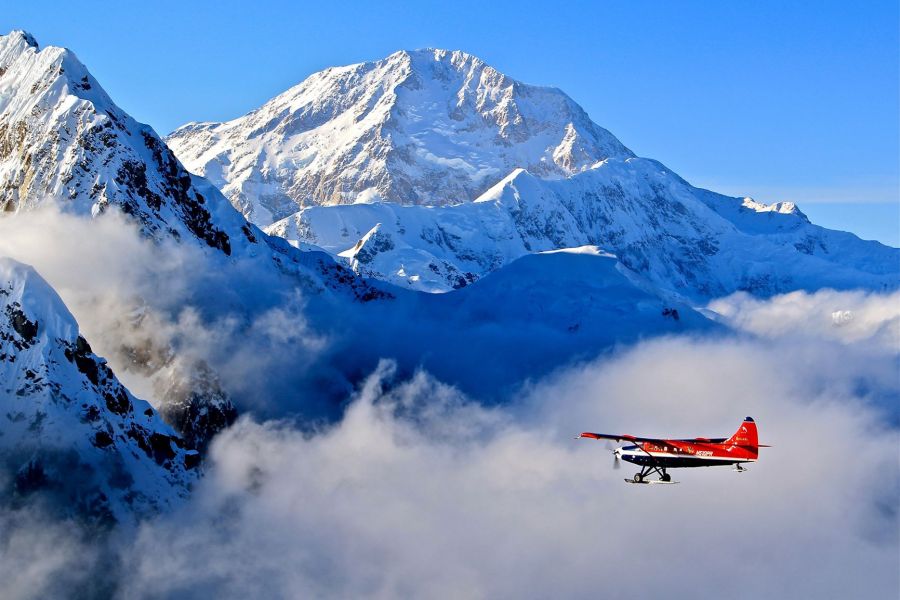 Take off from Lake Hood, the world's largest seaplane base, for a spectacular seaplane adventure! Discover the Chugach Mountain Range, its secluded valleys and the Dall sheep that live on its steep slopes.
Soar over the Captain James cook's Turnagain Arm in search of beluga whales.

View the bustling metropolis of Anchorage in its setting between mountains and water and listen as your experienced Alaskan bush pilot tells you some interesting facts about Alaska.
Alaska Wildlife Conservation Center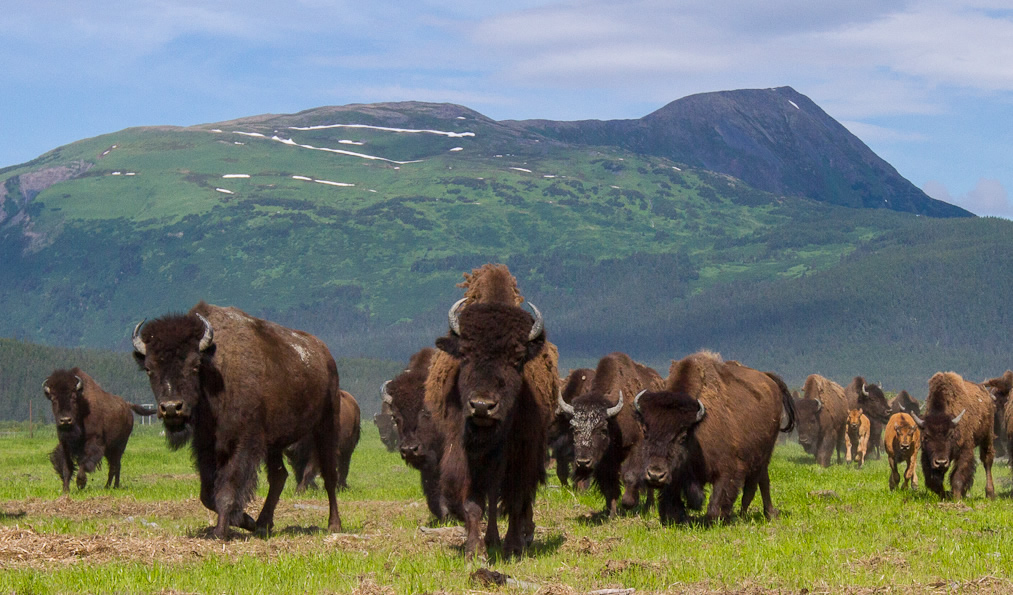 At the Alaska Wildlife Conservation Center you have the wonderful chance to experience Alaska's natural wildlife in one convenient location. The AWCC rescues orphaned and injured wildlife from across the state. They have moose, Caribou, Black Bears, Grizzly Bears, Bald Eagles, Wood Bison, Elk, Deer, Coyotes, Musk Ox, Lynx and more! You can see these animals in as natural of a state as can be recreated. These beautiful creatures are nursed back to health and sometimes released back into the wild.
The AWCC also helps in species re-introduction, such as the Wood Bison. This species only exists in Canada, but once thrived in Alaska. AWCC has the only herd in the United States. The first animals born in the U.S. were at the AWCC, and with it's distinction as the largest land mammal in North America, they are sure to thrive once more in Alaska's climate.
Among other wildlife in the center, AWCC has two Lynx. These sisters were rescued by a firefighter in 2004, and brought to the center for rehabilitation. Because the kittens were so young when they were rescued, they will live their lives in the park.
Come visit these magnificent examples of local animals at the Alaska Wildlife Conservation Center.