Other major cities are Santiago de Cuba, Camaguey, Santa Clara, Holguin, Guantanamo, Matanzas, Cienfuegos, and Pinar del Rio. The terrain is mostly flat or gently rolling plains, with some hills and mountains up to 2,000 meters (6,000 ft.). The climate is tropical, moderated by trade winds, with two main seasons: dry season (November-April), and rainy season (May-October). The official language is Spanish.
Today's Cuba offers travelers a rare opportunity to see a society very different from any other in the world. It is one of the most unique destination one can visit today.
In some areas, you will see some of the most picturesque beaches you have ever seen coupled with the beautiful turquoise sea that surrounds the country.
While in urban areas such as Havana, you can see the best preserved colonial architecture in all of Latin America. The Cubans will welcome you with open arms. 
Once you have visited Cuba for the first time, you will realize what an incredible place it is, and how delightful the Cuban people really are.
Cuba is the safest country in the Western Hemisphere for travel! Even women and children can walk the streets of Havana at night trouble free!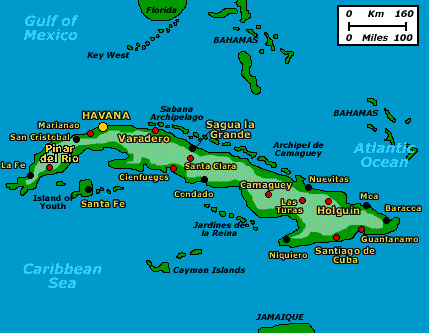 ---
Cuba, and its capital Havana have become one of the first tourist destinations in the Caribbean. The island (the biggest of the area) with 110,860 sq. km. (44,200 sq. mi.) have a population of 11 million, and its capital, Havana a population of 2 million.